Courtroom Testimony, 3rd ed., Mike Mangiaracina, Lawtech, 2006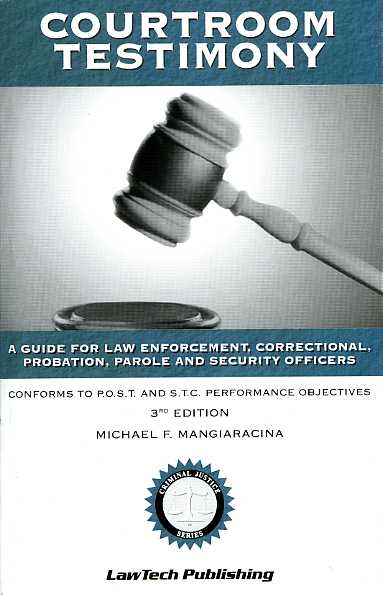 This text is designed to be of assistance in preparation as a witness in criminal and civil cases.
Written to be used in and one of three ways: As a Training Academy Workbook, a Clinical Courtroom Testimony Guide or a Training Resource Workbook.
Includes:
Trial Characteristics
Courtroom Attire
Courtromm Dememanor
Testifying In Court
Attorney's Trial Tactics
Sample Testimony
Common Trial Objections
Sample Jury Instruction
This professional development text is highly recommended for any department library.
5 1/2" x 8 1/2", 86 pages, softcover, ISBN 978-1-930466-70-8 BC8767 / $17.99
[Order]
[Checkout]
RELATED MATERIAL:
LawTech Publishing Books
Police Books
Police Technical Books