Insurance Fire Brigades 1680-1929: The Birth Of The British Fire Service, Brian Wright, 2008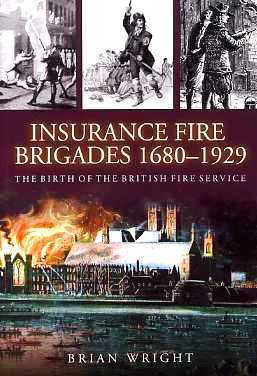 Insurance Fire Bigades 1680-1929 is the complete history of how insurance brigades shaped the fire service we know today.
It describes how the Romans in Britain had well organised fire brigades, but that these ceased after the Romans left Britain in the fifth century. After that there was no organised fire service and fires were both common and devastating, culminating in the 1666 Great Fire of London.
It was not until 1680 that the first insurance company, the Fire Office, was established in London by Nicholas Barbon. The government took no interest in the subject so it was insurance companies that pioneered the fire service for almost 250 years.
The firemen in major cities had magnificent uniforms in bright colours, many of which are illustrated in this book, and they used manual fire engines until the 1880s, manned by volunteers who were often paid in beer.
The insurance companies also provided new and improved water supplies and pioneered the improvement of fire proofing and Fire Acts. In the 1800s James Braidwood introduced the pattern of operation still in use today.
As is clear from Insurance Fire Brigades 1680-1929, throughout the nineteenth century the impracticalities of having so many small brigades were realised and local authorities began to take control. The last insurance brigade to be disbanded was the Norwich Union in Worcester, in 1929, so ending 249 years of direct involvement in firefighting by the insurance companies, which shaped the service we know today.
6 1/2" x 9 1/2", 223 pages, B&W and color illustrations, softcover, ISBN: 978-0-7524-4509-0, BI8120 / $42.95
[Order]
[Checkout]
RELATED MATERIAL:
History Books
Human Interest Books
Imported Books