Leadership, Ethics and Policing, Edwin Meese III and P.J. Ortmeier, 2004.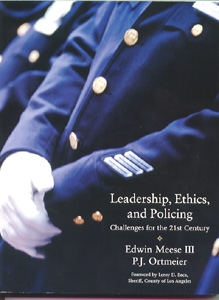 This unique, visionary text addresses leadership development for police officers in the 21st Century—with a focus on the ethical leadership competencies required of all police personnel, including front line officers in community policing environments, and why traditional leadership strategies are no longer appropriate.
TABLE OF CONTENTS:


1. The Challenge for Modern Policing.


2. The Importance of Ethical Leadership.


3. Concepts and Dynamics of Leadership.


4. Ethics, Morality, and Leadership.


5. Policing and Professional Conduct.


6. Communication: Key to Interpersonal Relations.


7. Motivation: Key to Personal and Professional Success.


8. Ethical Decision Making and Problem Solving.


9. Planning, Organization, Implementation, and Evaluation.


10. Ethical Leadership in the Context of Policing a Community.


11. The Vision for Change.
7" x 9", 308 pages, softbound, ISBN: 0-13-026871-2, BL3961 / $66.00
[Order]
[Checkout]
RELATED MATERIAL:
Career Enhancement / Management Books
Police Books
Police Technical Books