Structural Firefighting: Strategy and Tactics, 2nd ed., Bernard J. Klaene, Russel E. Sanders, NFPA, 2008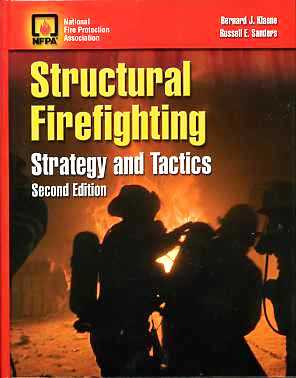 Safe and effective firefighting requires a thought process. It is not a simple matter of "how to." Decisions depend on many factors, from the type of building, to the likelihood of occupancy, to the water supply.
This strategy and tactics text, Structural Firefighting: Strategy and Tactics, Second Edition, prepares the fire officer to take command at structure fires, fully utilizing available resources in a safe and effective manner. The goal of this textbook is to explain proven tactics and strategies used at structure fires.
This text gives the reader the necessary tools to achieve maximum productivity under adverse fireground conditions. It has been revised to thoroughly cover the National Incident Management System (NIMS) and current, applicable NFPA statistics and standards.
New material includes a greatly expanded section on size-up, significant content on conflagrations and group fires, an extensive discussion of occupancy type, and more.
8" x 10", 379 pages, hardcover, ISBN: 978-0-7637-5168-5, BS8482 / $112.95
[Order]
[Checkout]
Related Material:
Software Study Guide
Fire Fighter Training Books
Fire Technical Books
Jones & Bartlett Publishers
NFPA Books
Structural Firefighting Books