Building Construction for the Fire Service, 4/e, Francis L. Brannigan, Glenn P. Corbett, NFPA, 2007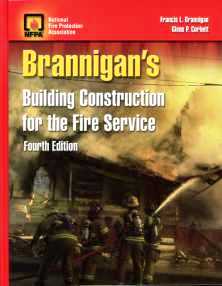 In 1971, Francis L. Brannigan created Building Construction for the Fire Service. His goal was to offer the most comprehensive building construction resource available to fire fighters in order to save firefighter's lives. This book is the Fourth Edition of that groundbreaking resource.
The Fourth Edition honors Frank Brannigan's legacy by continuing his passion for detail and extensive practical experience. His motto, "Know your buildings", impacts every aspect of this new edition. The Fourth Edition continues the Brannigan tradition of using plain language to deliver technical information about different building types and their unique hazards.
It presents critical firefighting information in an easy-to-understand format and ensures that firefighters have the knowledge they need before they step onto the fireground.
The Fourth Edition is part of an integrated teaching and learning system that combines groundbreaking content with dynamic new features to support instructors and to help prepare students for the job.
The Fourth Edition is a must read for firefighters, prospective firefighters, and fire science students. Chapters have been reorganized into three sections: the fundamentals of building construction, building types, and special hazards.
The features found in the Fourth Edition will help readers take the next step in becoming outstanding fire fighters. These features include:

Words from Brannigan - Words of experience from a master.

Tactical Considerations - Important, life-saving tips designed to keep fire fighters safe.

Key features include:


Learning Objectives - Objectives are provided for each chapter with corresponding page references.

Chapter Summaries - These summaries review the key concepts presented in the chapter.

Key Terms - Terms are easily identified and defined within the text. A comprehensive list with definitions follows each chapter.

Review Questions - Review questions are available to test readers retention of the materials presented in the chapter.

New and updated content, including a chapter on Concepts of Building Construction

343 pages, hardcover, ISBN: 9780763744946, BB7474 / Was $93.95 / Now $80.95

[Order] [Checkout]

Related Material:
Exam Prep Book BB7479
Student Workbook BB7475
Software Study Guide (Rapidfire) SFB944
Fire Fighter Training Books
Fire Technical Books
Jones & Bartlett Publishers
NFPA Books