Chief Officer, 2nd ed. Study Guide, IFSTA, 2004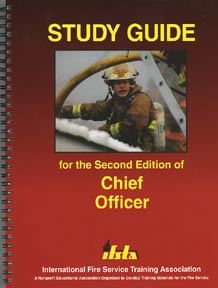 This book is the companion study guide to the second edition of Chief Officer.
It is designed to help the reader understand and remember the material presented in the IFSTA manual that it accompanies.
The guide identifies important information and concepts from each chapter and provides questions to help the reader study and retain this information.
In addition, the study guide serves as an excellent resource for individuals preparing for certification or promotional examinations.
Specifically, this study guide contains 601 multiple choice, 300 true/false questions, 428 identification questions, 286 matching questions, and 24 distinguish.
8 1/2" x 11", 213 pages, softcover, ISBN: 0-87939-247-9, BC2156 / $34.00
[Order]
[Checkout]
Order the Text & Study Guide book together and save!
BC2157 / $79.50 [Order] [Checkout]
Order the Text and Study Guide software together and save!
BC2158 / $79.50 [Order] [Checkout]
RELATED MATERIAL:
The Chief Officer, 2nd ed. Text
Career Enhancement Books
IFSTA Books
Fire Technical Books