Command and Control of Fires and Emergencies, Vincent Dunn , FDNY Deputy Chief (Retired), Fire Engineering Pub., 1999.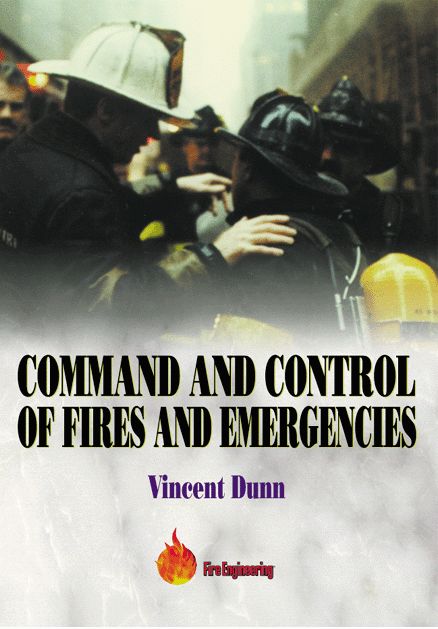 A busy fire officer is pulled in a number of different directions - budgets, administration, political interaction medical response, fire prevention, inspections ... the list goes on. Command and Control of Fire and Emergencies brings the active fire officer back to the core of his job - the fighting of fires and the response to emergencies.
This book serves as a practical guide on the subject of command and control of fire and emergencies. Anyone who serves as a supervisor on the scene of a fire or emergency will learn from Vincent Dunn's 40 plus years of fire service experience.
Contents:


Command presence


Life-and-death decision making


Locating a fire, Size-up of a fire


Command and control at a fire


Hoseline placement


Preventing fire spread


Changing strategy


Ventilation


Using elevators at fires


Stairways and strategy


High-rise firefighting


Wildfires


Terrorism


Fireground communications


Demobilization


Fireground dangers


Products of combustion


Managing fireground risks and dangers


Epilogue


index.
7" x 10 1/4", 293 pages, black & white photos, softcover BC4200 / $59.00
[Order]
[Checkout]

Related Material:
Part 1 - High Rise Firefighting Strategy and Tactics DVD DH4900
Part 2 - Building Construction & Fire Spread DVD DB8914
Part 3 - Collapse, Search & Rescue DVD DC7924
Part 4 - Building Construction & Facade Collapse DB8911
All 4 parts - Strategy of Firefighting DVD series DS6428
Vincent Dunn Videos
Vincent Dunn Books
Fire Engineering Publications
Fire Fighter Training Books
Fire Technical Books
Management / Career Enhancement Books
Reference Books