Firehouse, David Halberstam, 2002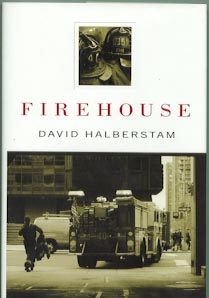 A moving testament to the remarkable brotherhood of firemen, from the Pulitzer Prize winner and bestselling author, now deceased.
On a day when the worst of mankind showed itself, the best of mankind answered it.
Firehouse is an intimate portrait of the courageous men who sacrificed their lives during the New York City terrorist attack of September 11, 2001.
Following the lives of Engine 40 Ladder 35, Firehouse offers a view both into the epic center of the tragedy and into the daily life of firehouses across the nation.
Every American will want to know these courageous men who experienced first hand the worst terrorist attack to ever take place on American soil. Full of astonishing detail, lingo, humor, and danger, Firehouse is a terribly moving story that will inspire readers today and for years to come.
About the Author:
Pulitzer-Prize winning journalist and best-selling author David Halberstam has spent a lifetime defining the events that have shaped the modern age of our nation, both politically and psychologically. From his reporting on the budding Civil Rights movement to his award-winning coverage of Vietnam, he is considered to be one of the voices that personifies our nation's collective consciousness.
Halberstam is the author of numerous bestsellers, including The Best and the Brightest, The Powers that Be, The Reckoning, The Fifties, and War in a Time of Peace. A contributing editor to Vanity Fair, he lived in Manhattan only blocks from Engine 40 Ladder 35, prior to his death in a car crash.
6" x 8 1/2", 201 pages, softcover, ISBN: 1-4013-0005-7, BF6500 / $14.00
[Order]
[Checkout]