Hazardous Materials Managing the Incident, 3rd edition, Gregory G. Noll, Michael S. Hildebrand, and James Yvorra, 2005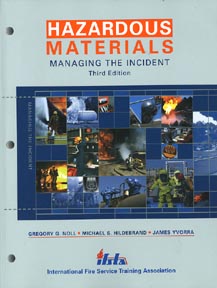 This textbook, now validated by IFSTA, is designed to meet the core competencies for Hazardous Materials Technician and Haz Mat On-Scene Incident Commander as outlined in OSHA 1910.120, Hazardous Waste Operations and Emergency Response, and the educational competencies referenced in NFPA 472, Professional Competence of Responders to Hazardous Materials.
It consists of 12 chapters with chapters 1-3 addressing preparing for the incident and chapters 4-12 addressing how to respond safely to a hazardous materials incident. Chapter 4 is written as a "bridge chapter" and provides an overview of the Eight Step Process© which is a systematic way of approaching a haz mat incident. Chapters 5-12 expand on Chapter 4 by dedicating one chapter to each of the Eight Steps.
8 1/2" x 11", 622 pages, softbound, ISBN: 1-932235-04-3, BH4502 / $50.00
[Order]
[Checkout]
RELATED MATERIAL:
Instructor Program for this Text
Software Study Guide for this Text
Fire Fighter Training Books
Fire Technical Books
Hazardous Materials Books
IFSTA Books