Life and Times of a NYC Firefighter/Fire Investigator, Frederick Mercilliott, Ph.D., 2003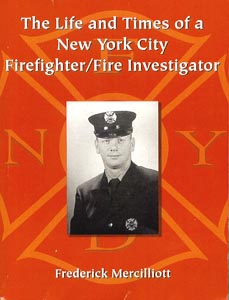 Fred Mercilliott grew up in Brooklyn, New York during the 50's.
After high school, he joined the U.S. Navy and served on submarines and on amphibious ships. After his service in the Navy, he became a New York City firefighter.
This book takes the reader inside the firehouse, fighting some of the worst fires in the history of New York City. Firefighter Mercilliot was promoted to the position of fire marshal where instead of fighting fires, he investigated them, and brought to justice the perpertrators.
He persued his education, received advanced degrees in fire science and criminal justice, and eventually received his Ph.D.
Doctor Mercilliot is now a college professor enabling his students to get his fire fighting / arson investigation experience.
5 1/2" x 7 1/4", 294 pages, softbound, ISBN: 1-4120-0152-8, BL5317 / $24.95
[Order]
[Checkout]
RELATED MATERIAL:
Arson / Fire Investigation Books
FDNY Books
Human Interest Books