Supervision Of Police Personnel, 7th ed.,Nathan F. Iannone, Marvin D. Iannone, Jeff Bernstein, 2008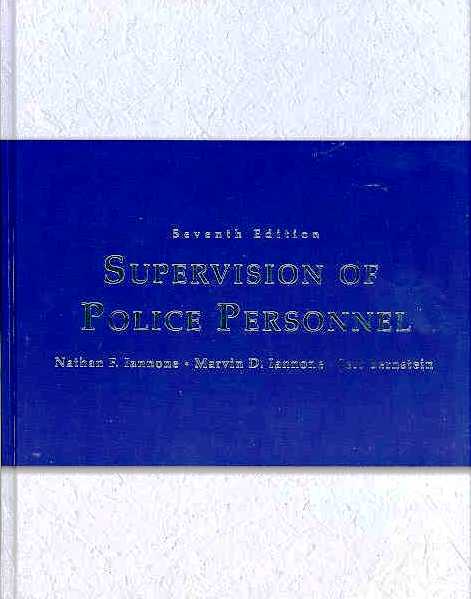 Known as the source for police supervision, this book offers complete coverage of leadership training of supervisors in law enforcement and allied fields. From proven leadership strategies to methods for maintaining high morale, this book discusses individual and group management techniques and how to carry out the various responsibilities of the supervisor.
A variety of issues are explored, from hiring and training, to discipline and evaluation. This edition features the latest on leadership and decision making, more on handling critical incidents, contemporary personnel issues and new aids for both the student and instructor.
Features

Up-to-date coverage of the legal aspects of leadership: Makes this text consistent with changes in the law, and the currently preferred practices of progressive police organizations.
Proven techniques for leading personnel: Teaches students an appreciation for the leadership role and how to maximize their own leadership potential.
Sound techniques for maintaining high morale: Enables readers to apply good supervisory practices in order to achieve this goal–especially in the face of today's increasing demands for strict civil and criminal accountability of police.
Tips on handling supervisory problems: Offers suggestions that make supervisors more effective, and encompass today's rapidly changing legal requirements.
Problem-solving exercises: Gives students an opportunity to resolve issues frequently faced by supervisors on the job.

7" x 9 1/2", 416 pages, hardcover, ISBN: 978-0-1311-3161-3, BS9513 / $146.80

[Order] [Checkout]

RELATED MATERIAL:
Police Books
Police Technical Books
Commonwealth Police Services Books
Law Enforcement Dimensions Books