Building Construction Related to the Fire Service, 3rd ed. Instructor Curriculum, IFSTA, 2010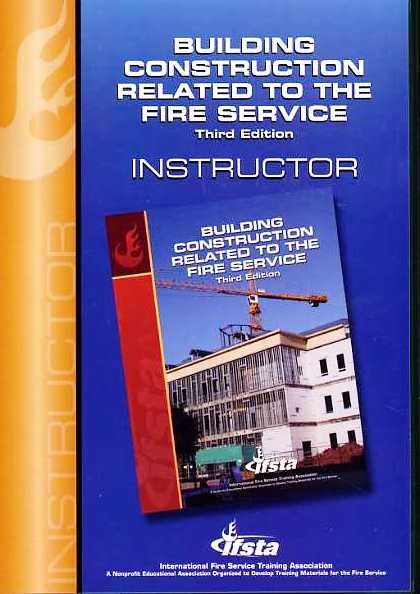 The Building Construction Instructor Disc meets the objectives for the FESHE model curriculum outcomes for Building Construction for Fire Protection.
It is designed to teach the components of building construction that relate to fire and life safety such as the major types of building construction and their amount of fire resistance.
Students will learn about construction elements and design features that affect inspection, preplanning, and fire fighting.
This instructor disc contains materials needed to teach a course in conjunction with the IFSTA Building Construction Related to the Fire Service (3rd edition) manual. The materials can be modified as needed because they were created using the basic features of Microsoft Word® and Microsoft PowerPoint®.
The disc has a user-friendly interface that allows instructors to select the appropriate component from a menu. Included in each chapter are:
PowerPoint® presentations
Instructor outlines
Review questions and answers
Test questions and answers
All of the files are customizable to allow instructors to add their own information.
CD Rom, ISBN: 978-087939373-1, SFB925 / $56.00
[Order]
[Checkout]
Related Material:
the Text (1/2010), BB8306 / $59.00
Print Study Guide (1/2010), BB8307 / $41.00
Workbook (1/2010), BB8308 / $51.00
Instructor Resource Kit (IRK) (1/2010), BB8313 / $169.00
IFSTA Software Study Guide (1/2010), SFB924 / $38.00
Instructor Curriculum CD (1/2010), SFB925 / $56.00
Clip Art (1/2010), SFB926 / $36.00
Rapidfire Software Study Guide (7/2010), SFB927 / $35.95
USB Software Study Guide (2/2012), SFB928 / $38.00
other IFSTA Software
All Fire, Police, EMS Software