Fire Officer's Handbook of Tactics, 3/e, software study helper, Knightlite Software, 2007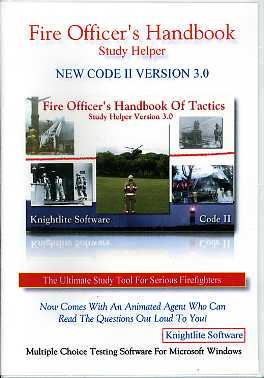 The basic strategies of modern day firefighting have not changed. They encompass the basics of protecting life, confining the fire, and extinguishing it. What has changed is the tactics employed by firefighters, along with the newest advances in technology, that allow firefighters to fight fires more efficiently and in totally different ways than how fires were fought 30 years ago.
John Norman's Fire Officer's Handbook of Tactics, 3/e, presents fire officers a way to evaluate problems, as well as developing solutions, that will fit the situations that firefighters may face, with or without a large number of firefighters at their side.
Fire Officer's Handbook Of Tactics Study Helper Version 3.0 is a Flashcard\Multiple-Choice Test for firefighters based on Fire Engineering's Fire Officer's Handbook of Tactics 3rd Edition. Tests can be taken on-screen or can be printed out in a variety of ways
The Questions - There are 1067 questions in the registered software package spanning 20 chapters based on Fire Engineering's Fire Officer's Handbook of tactics 3rd Edition. There is also a Terminology section containing 157 definitions.
Knightlite has created a new "graphic user interface" (GUI) that allows users to utilize their computer in such a way as to enhance their learning experience. This allows them to learn the massive amount of information required by certification and promotional exams at a much quicker rate, and in a more enjoyable way than traditional study techniques.
The most notable feature in the new Code II GUI is the addition of an Animated Agent who can actually read the questions out loud to you. The Agent reads the question to you and waits for you to answer. Or set the software to "Presentation Mode" and the software will self-run, just like a movie, reading a question, giving you the answer, and then moving to the next question. You can interrupt the Agent at any time by selecting an answer. The Agent will then tell you if you were correct or incorrect, tell you the correct answer if you were incorrect, and then move on to the next question. A 1500 question software program runs for over 8 full hours in the "Presentation Mode." The Agent can also be turned off and hidden at any time.
Features

Flashcard Mode - Learn only the correct answers, and ignore the other choices
Remembers the questions you answered incorrectly so you can go back and review questions you had difficulty with
Improved Multiple Random Chapter Generation. Simply drag the chapters you want in your test from the box on the left and drop them into the box on the right. Enter the number of questions you want, a title if you wish, and then click the Create Test button. Your test is instantly created
Enhanced Printer Interface - allows you to change printer fonts, sizes, and colors. Add your own titles to any test. Change borders. If you installed the optional TestMaker Upgrade Module you can also add pictures to questions, and print out Picture Albums with the questions
250,000 word dictionary so you can check the entire database of questions
Quick Report generation - Prints out a quick report of your test score including the starting and stopping times, your score and a list of questions answered incorrectly along with their answers, and page references to the targeted text book, if selected
Extensive Terminology Section - For easy lookup of definitions
A Variety Of Ways To Take On-Screen Tests

System Requirements: 486 DX Processor Or Higher (Pentium Recommended), At Least 16 MB Ram (32MB Recommended), Microsoft Windows 3.1, Windows 95, 98, 2000, ME, XP, One 3 1/2" Floppy Drive or CD Rom Drive, At Least 8 MB Free Hard Drive Space, VGA Graphics Card (16 Million Colors Recommended), Screen Resolution 800 x 600, Mouse Or Other Pointing Device, Printer Attached To Parallel Port. (Not All USB Printer Connections Will Work With All Printers. Most do, but some don't. If you have problems printing with your USB connection, use a parallel cable to hook your printer to your computer, and the software will print fine.)

Windows version SFF581 / $26.95

[Order] [Checkout]

Related Material:
Video Series for this text
Rapid-Fire Software
Computer Software