WNYF Compilation 1940-2009, FDNY Foundation, 2010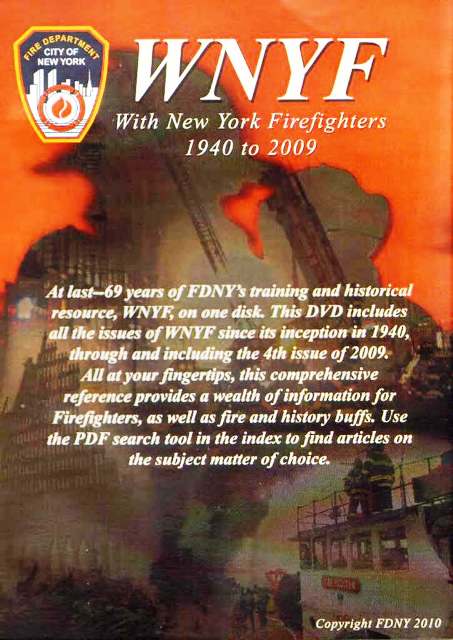 WNYF, With New York Firefighters, is the official training publication of the New York City Fire Department.
Is is written for fire operations and fire safety services professionals and produced four times per year.
WNYF is administered by the FDNY Foundation.
Each issue contains:

Articles written for firefighters by firefighters

Information on technical advances

Comprehensive stories about techniques and tools

In-depth anaylsis of major operations
This CD contains the complete contents of every issue - from the first one produced in November, 1940, up through the 4th issue of 2009 - 272 issues in total.
Viewing is done with Adobe Acrobat. You can go to a specific issue and view the contents as if you were reading a book.
Additionally, the PDF search engine makes it easy to find articles if you don't know which issue it was in. You can search for the title of an article, the author, or virtually anything else.
Complete opeational information is provided with the CD.
The CD also contains 5 videos:

EMS (Emergency Medical Services)

Engine (pumper) Operations

Ladder (truck) Operations

SOC (Special Operations Command)

Fire safety
In addition you may wish to subscribe to WNYF and have the 4 yearly issues mailed directly to you.
To do this download a subscription form CLICK HERE, mail completed subscription form to WNYF at the address shown on the subscription form with payment made out to "FDNY Foundation".
FSP Books & Videos CAN NOT accept subscriptions to WNYF.
SWNYF / $149.00
[Order]
[Checkout]
Related Material:
WNYF magazines
FDNY books, videos, etc