FDNY Foam Carrier 84, Code 3 Collectibles, 2010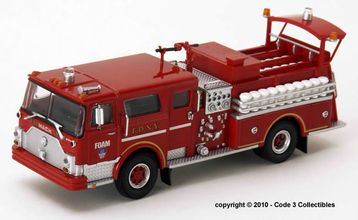 The Foam Carrier 84 is detailed to represent these special units in service with FDNY.
The Mack Carrier has been retooled to include features that distinguish this rig from others in service to include the multiple canisters for foam on the dies and in the bed of the truck.
The silver railings have been added as well as the rear panel both to contain and secure the canisters in transport. Not to be missed this is a special addition to any collection.
All of the Foam rigs carry foam concentrate in their tanks, along with many five gallon cans of foam concentrate. They carry various foam nozzles, eductors, a foam generator, plus a portable foam cannon.
The current Foam 154 is a 1988 Mack CF/Ward 79 1000 gpm retrofitted pumper, in 2000.
Click here for the full description
Scale: 1/64, 5.25"L x 2.00"H x 1.50"W, MFFC84 / $59.99
[Order]
[Checkout]
RELATED MATERIAL:
All Models
FDNY Books
FDNY DVDs