WNYF - First Issue 2007 - Volume 67, Number 1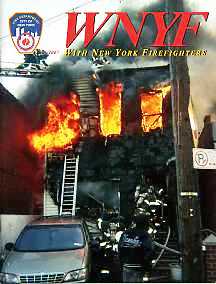 Contents:

View From 9 MetroTech Center - Historic Expanded Training Continue FDNY's Legacy
East Side Explosion and Collapse (Manhattan Box 66-????, 35 East 62nd Street, 7/10/2006)
Investigation of East Side Gas Explosion / Collapse (Manhattan Box 66-????, 35 East 62nd Street, 7/10/2006)
Guidelines for Battling High-Rise Building Fires
Stretching Points
A Useful Tool for Stretching Around Vehicle Tires
Utility Hazards - Electric Substations Overview, Hazards and Response Tactics
Students' Corner
A New Lightweight Construction
Lightweight Residential One- to Four-Family Homes: Construction Features and Tactical Considerations
Taking Up (10/31/2006 to 1/31/2007)
Runs & Workers 2006
Photo Reporter
Extreme Wind-Driven Fireproof Multiple Dwelling Fires
Wind Compounds Problems at Bronx High-Rise Fire: Post Radios Help Resolve Them (Bronx Box 33-3553, 20 Mosholu Parkway South, 2/26/2006)
Using the FDNY Post Radios
CO Detector Activation - The New Nuisance Alarm?
Fox Locks, Part II - Conventional Method, Inward Swinging
All Hands
Kudos to the FDNY (aka "Thru the Bag")
In Memoriam
Back Step.
8 1/2" x 11", 60 pages, softcover, W071 / $6.00
[Order]
[Checkout]
Related Material:
FDNY Books
WNYF Magazine