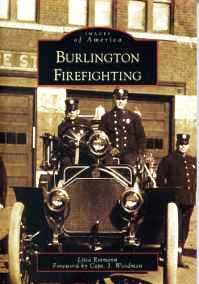 Burlington, VT Firefighting
Burlington Firefighting richly illustrates the triumphs and tragedies, the hauntings and secrets of the Burlington Fire Department. Originating as a series of bucket brigades, the fire department developed from competing companies that served as elite social clubs into a professional organization that was incorporated in 1895.
The transitions from hand-drawn to horse-drawn carts and pumpers to steam engines and motorized trucks largely shaped the evolution of firefighting in Vermont as a whole.
BB6955
As a graduate student in the University of Vermontís Historic Preservation Program, Liisa Reimann conducted extensive research on Vermont firefighting and coauthored a work on Vermont firehouse design for the National Register of Historic Places. Burlington Firefighting grew from her desire to make the story of the Burlington Fire Department available to all, to spearhead a plan for the restoration of the cityís 1896 Fire Station No. 3óreputedly Vermontís oldest functioning firehouseóand to pay tribute to the people and events that have shaped one of the best fire departments in Vermont.
Specifications
Arcadia Publishing, 2006
6" x 9" softcover
128 pages, Black & White photos
ISBN: 9780738546124