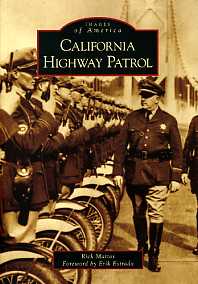 California Highway Patrol
By Rick Mattos, Erik Estrada, 2008
The California Highway Patrol has its roots in the early 1920s motorcycle traffic cops employed by counties and cities. The CHP became a separate state entity in 1929 and has grown from the early traffic enforcement role to that of one of the premier law enforcement agencies in the United States.
Their responsibilities range from patrolling the freeways and county roads of California to providing security for the state capital and other state buildings to protecting the governor and visiting dignitaries from around the world.
The CHP has marshaled its forces to restore and maintain peace in times of war, civil unrest, or natural disasters.
BC0945
Author Rick Mattos is a 28-year veteran of the California Highway Patrol. He currently serves as the president of the California Association of Highway Patrolmen, the labor organization that represents active and retired CHP officers. He has drawn on archives of the CAHP, the CHP, and the California Highway Patrol museum located at the CHP Academy in Sacramento to provide this historical glimpse of the CHP. Using these fascinating collections, Mattos illustrates here the stories of the officers, equipment, tactics, vehicles, and cases that have made the CHP internationally famous. Actor Erik Estrada, whose timeless portrayal of a motorcycle officer in the 1970s television series CHiPs made the CHP a household name, contributes an insightful foreword.
Specifications
Arcadia Publishing, 2008
6 1/2" x 9" softcover
125 pages, hundreds of B&W photos
ISBN: 9780738556208