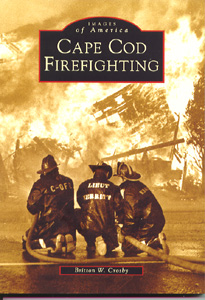 Cape Cod Firefighting
Britton W. Crosby
Cape Cod Firefighting covers the history of firefighting throughout Barnstable County, which includes all 15 towns on the Cape.
Photos from the collections of every local fire departments and many historical societies are shown. Included are photographs of forest fires, building fires, fire engines, medical rescue squads and firefighters.
This is the only book that discusses firefighting in this part of Massachusetts.
BC1049
About the Author: Britt Crosby is a fire department lieutenant and paramedic. His interests include photographs of modern day firefighting operations, and collecting historical photographs from the region. The Crosby family has been on Cape Cod for generations.
Specifications
Arcadia Publishing, 2003
6" x9" softcover
128 pages, B&W photos
ISBN: 0-7385-1182-X