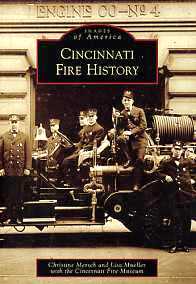 Cincinatti Fire History
Christine Mersch and Lisa Mueller with the Cincinnati Fire Museum
The Cincinnati Fire Departmentís journey to distinction as the nationís first professional fire department began in the early 1800s, soon after Losantiville (later renamed Cincinnati) was founded.
The department grew steadily from bucket brigade to volunteer corps; in 1853, an ordinance passed by Cincinnati City Council established the nationís first organized, paid fire department. Cincinnati provided the pattern for fire departments across the United States for the next 50 years and was the first to use successful horse-drawn steam engines to fight fires.
The city of Cincinnati was home to the Ahrens-Fox manufacturing company, one of the most famous names in firefighting apparatus in the 1900s, placing the department on the cutting edge.
Today the Cincinnati Fire Department continues its tradition as one of the premier urban firefighting systems. For more than 150 years, members have served their city and beyond.
BC2548
About the Authors: Authors and Cincinnati natives Christine Mersch and Lisa Mueller collaborated with the Cincinnati Fire Museum to document notable events in Cincinnati fire history, the departmentís growth, technological advances, and legacy. Mersch, a professional journalist, and Mueller, a freelance writer, use almost 200 vintage images and personal narratives to bring Cincinnati Fire History to life.
Specifications
Arcadia Publishing, 2009
6" x 9" softcover
128 pages, black & white photos
ISBN: 978-0-7385-6112-7