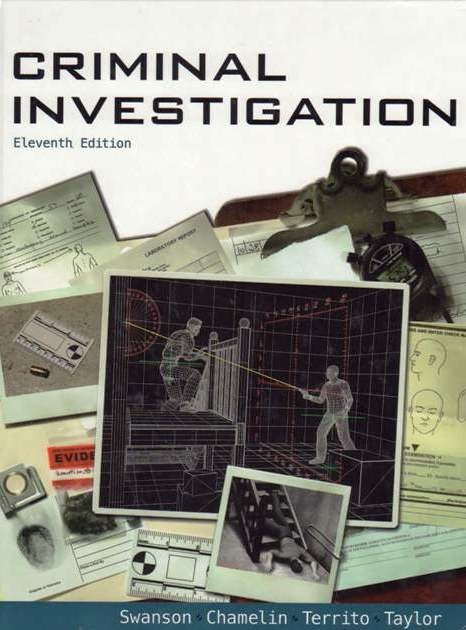 Criminal Investigation 11th edition
$

260.65
Reg. Price $297.33
You Save $36.68
in stock
Charles R. Swanson, Neil C. Chamelin, Leonard Territo, Robert W. Taylor
Widely recognized as the most accurate and comprehensive text in the field, this practical, step-by-step introduction to criminal investigation gives students a logical framework for understanding the investigative process.
Major sections cover current issues such as environmental crime, the looting of archaeological sites, videotaping of crime scenes, street gangs, and drugs.
Case studies throughout the text emphasize the applied technique of criminal investigation.
Graphs, charts, and compelling photographs found throughout the text depict the practical aspects of investigation and help to clarify difficult scientific concepts.
BC8925
New Features: *New Chapter 12, Human Trafficking, includes coverage of US law and state laws on human trafficking, existing National Anti-Trafficking Task Forces, discussion of the types of victims and much more. *New section called "Know Your Explosives" in Chapter 19 includes a detailed description of the characteristics of various types of explosives as well as the way in which they can be scientifically analyzed and detected. *Expanded Chapter on Recognition, Control, and Investigation of Drug Abuse (CH 20) includes expanded coverage of "cheese" heroine, Codeine, opiate overdoes, crystallized methamphetamine, synthetic marijuana (K2), drug trafficking and violence in Mexico, and new methods for producing meth. *Chapter 21, Terrorism, includes an updated section on the investigation of terrorist activities including an expanded discussion of investigative tools and techniques including the use of technology to coordinate and disseminate intelligence. *Chapter 11, Crimes Against Children, has new sections on traumatic brain injuries and deaths, cyber bullying, and child pornography. *Chapter 5, Interviewing and Interrogation, includes new sections on electronic recordings for interrogation, and detection of deception through body language.
Specifications
McGraw-Hill, 2012
8 1/2" x 11" hardcover
768 pages, color photos and charts
ISBN: 978-0-07-811152-5