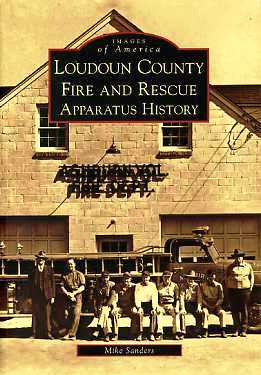 Loudon County Fire & Rescue Apparatus History
Mike Sanders
The formation of the volunteer fire and rescue departments were a central part of Loudoun Countyís rich history. In the beginning, residents rallied to provide fire protection and emergency medical care to their neighbors. As more communities were established, fire and rescue departments worked together to provide assistance to each other during an emergency.
As Loudoun County experiences incredible growth, volunteers from the community work side-by-side with career personnel to ensure that citizens are well protected.
The images in this volume capture the history of Loudounís fire and rescue apparatus, from the earliest trucks to todayís modern fire and rescue vehicles. The photographs depict a time when departments struggled to raise funds and provide protection to their communities.
This Images of America book shows how far fire and rescue departments have come to ensure the protection of life and property in Loudoun County.
BL9710
About the Author: Mike Sanders is a volunteer firefighter in Loudoun County and has resided in Virginia his entire life. He is a longtime enthusiast of the history of fire and rescue departments in Virginia, specifically the history of motorized fire and rescue apparatus. Mike has compiled photographs from his own extensive collection and that of other fire service historians and from the archives of numerous fire and rescue departments county-wide.
Specifications
Arcadia Publishing, 2007
6" x 9" softcover
128 pages, B&W photos
ISBN: 0-7385-5263-1