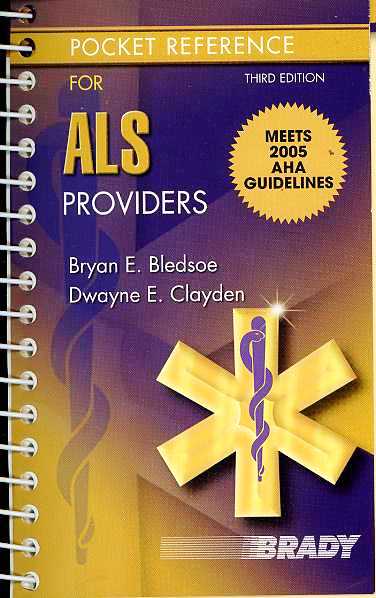 Pocket Reference for ALS Providers, 3rd Ed.
Dwayne E. Clayden, Bryan E. Bledsoe
Pocket Reference for ALS Providers is an indispensable resource. This massively updated, handy pocket-sized field reference is written specifically for Paramedics and offers the most up-to-date information essential to paramedic care.
Features include an expanded emergency drugs section, new chapters on pharmacology and street drugs, and both newly updated and expanded signs and symptoms, special operations, and acute coronary syndrome chapters.
BP0970
Table of Contents: Emergency Drugs, Pediatric and Neonatal Emergency Medications, Street Drugs, Safety and Wellness, Signs and Symptoms, Tables and Charts, Pharmacology, Acute Coronary Syndrome, Special Operations.
Specifications
Pearson Education / Brady, 2005
4" x 6" spiral bound
368 pages
ISBN: 0-13-170728-0