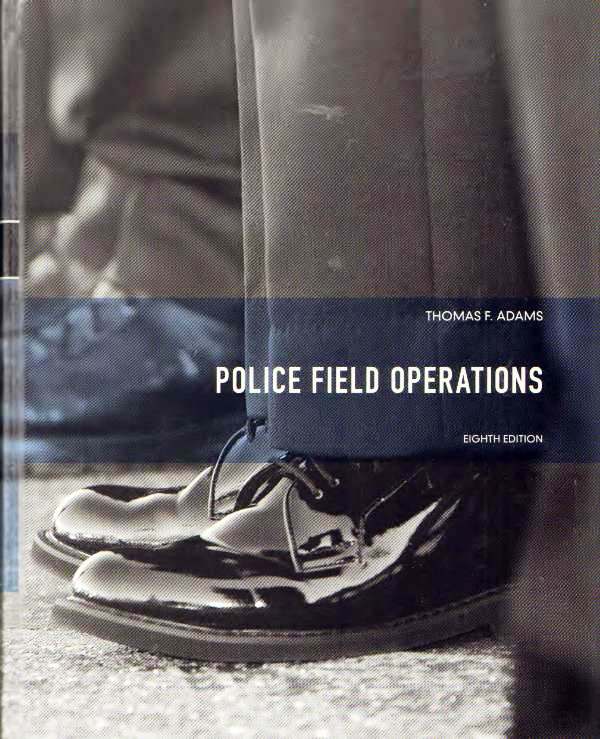 Police Field Operations, 8/e
Thomas F. Adams
The result of over two years of revisions, Police Field Operations, 8/e brings this essential text up to date with the most recent developments in police practices and procedures. For years, Adams has served as the textbook standard for police departments and academies and academic programs across the country.
Written from the perspective of a working police officer, the text presents the real-life scenarios an officer is likely to encounter while on-duty. It focuses on community policing, details how and why certain procedures are used, and provides instructional techniques from leading police academies.
Features:
Offers practical experience from a respected author. Drawing on over 50 years of experience, working in and teaching criminal justice, Adams is based on real experience and current procedures that are immediately applicable. The text is a respected resource at colleges and police academies and has been used as a study guide for promotional exams up to the ranks of Captain and Commander.
Gives students the whole picture. Current and comprehensive, the text provides broad coverage that is up to date and can be directly applied in the workplace.
Helps students develop the skills necessary to become successful officers. Adams covers the full range of necessary skills police officers need to possess, including observation, perception, interview techniques, and crowd and riot control.
Provides practical guidelines for use-of-force. Issues of when and how much force to use under different circumstances are thoroughly covered to provide practical guidelines for shaping and enforcing policy.
Helps prepare students for stress in the field. Chapter 14, Officer Survival and Stress Reduction, provides exceptional coverage of workplace stress, its causes, and how to manage it.
BP12886
About the Author: Thomas F. Adams is Coordinator, Criminal Justice Program and Regional Police Academy Instructor, Del Mar College, Corpus Christi, Texas; Adjunct Instructor, Criminal Justice, University of Incarnate Word; Criminal Justice Professor Emeritus, Santa Ana College; and Former Lieutenant of Police Santa Ana, California
Specifications
Pearson Education, 2014
8" x 10" hardcover
410 pages
ISBN: 978-0-13-505049-1