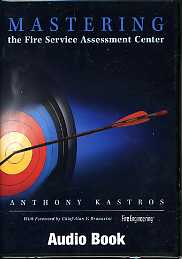 Mastering Fire Service Assessment Center Audio Book
Anthony Kastros
This book identifies the key knowledge, skills and abilities required for success in the assessment center promotional process.
Assessment centers are widely used by fire departments throughout the country. Unfortunately, many candidates fail to prepare for the test by failing to prepare for the position they seek. Whether aspiring to be a Lieutenant, Captain, Battalion Chief or above, this book gives the reader the tools to establish a personal plan for success in the test and in the position.
This book is written in a humorous, matter-of-fact style that makes it easy to understand and retain. The reader is taught to truly prepare for the position and make the mental paradigm shift from test candidate to incumbent officer, which is a very unique and effective method. The book provides the reader with the tools needed to create his/her own plan for success.
A personal self-assessment helps the aspiring officer evaluate his/her current status and leadership style. This baseline provides the foundation to get the reader asking questions about real-world scenarios that are mimicked in the testing arena.
AM4740
Features & Benefits: Gain a better understanding of what an assessment center is Contains test exercises, sample problems, rating criteria, scoring sheets, assessor selection and common pitfalls Learn the 27 knowledge, skills, and abilities (KSA's) spanning the 3 dimensions of leadership, management and emergency scene operations; Gain an in-depth understanding of how to develop their KSAs to succeed in the test and the position. This audio book is professionally narrated by Keith Boscher and perfect for uploading to your MP3 player.
Specifications
Fire Engineering, 2008
audio book CD
ISBN: 978-1-59370-163-5