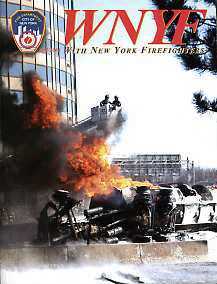 WNYF Magazine 2008 2nd Issue
Contents:
View From 9 MetroTech Center - The Complexities of Training
Dump Truck Lands on Staten Island Pipeline - FDNY Cordinates a Safe Conclusion (Queens Box 75-????, 500 Western Avenue, 1/14/2008)
Ground-Breaking for New FDNY High-Rise Simulator
Features of the High-Rise Simulator
Probationary Firefighter Training in the Firehouse
A Young Department and One that is Knowledge- and Skills-Hungry
Wall Breach Facilitates Extinguishment of Bronx Cellar Fire (Bronx Box 33-2226, 2855 3rd Avenue, 1/21/2008)
Staten Island Tugboat Rescue (Staten Island Box 75-399, 1560 Richmond Terrace, 12/5/2007)
OSHA 1926.550
The Holland Tunnel
Leadership Lessons for the FDNY
Taking Up (1/1/2008 to 3/31/2008)
Photo Reporter
Big Hole in Roof + Aggressive Top-Floor Operations = Successful Stop (???? Box 33-????, 321 East 168th Street, 2/9/2008)
2008 FDNY Medal Day Recipients
All Hands
A Moment Frozen in Time
Hope for the Warriors Dinner
In Memoriam
Back Step
W082
Specifications
FDNY, 2008
8 1/2" x 11"
40 pages