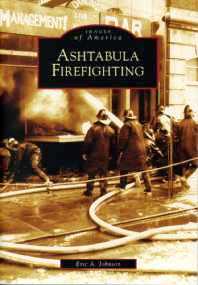 Ashtabula Firefighting
By Eric A Johnson
The story of firefighting in Ashtabula is almost as old as the community itself, beginning with the informal citizen bucket brigades of frontier necessity in the early decades of the 1800s.
Between 1836 and 1911, the burgeoning Lake Erie port and manufacturing city was served by a cadre of dedicated volunteer fire companies, including the celebrated, award-winning Protection Fire Company. Ashtabula's rapid growth spurred the October 25, 1911, transformation of the city's longstanding volunteer fire corps into a paid, full-time professional fire department.
With over 200 archival images drawn from the Ashtabula Fire Department, the private collections of retired city firefighters, and local newspaper and museum archives, Ashtabula Firefighting highlights 170 years of firefighting heritage.
BA9745
Author Bio: Ashtabula resident Eric A. Johnson is an award-winning Midwestern freelance journalist and the author of two Illinois-based books in Arcadia's Postcard History Series, Rockford: 1900–World War I and Rockford: 1920 and Beyond.
Specifications
Arcadia Publishing, 2006
6" x 9" softcover
128 pages, hundreds of B&W photos
ISBN: 9780738540474