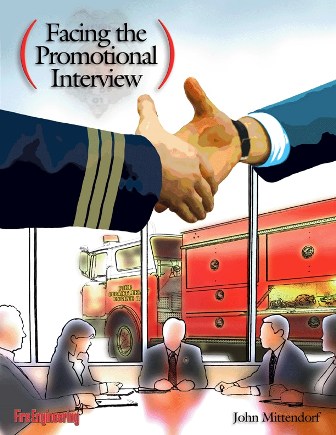 Facing the Promotional Interview
In this all-encompassing brand new book, veteran fire chief and best selling author John Mittendorf explains the subtle requirements of the promotional interview process.
This book is designed to help fire fighters avoid the common pitfalls of poor interviews by teaching them:
How to develop a balanced study program Why the first 60 seconds of an interview are critical, and what you can do to make a good impression
How to relate your qualifications to the position sought
What to expect in the opening, body, and closing questions of an interview
Typical opening questions
How to define and prepare an opening response for the positions of engineer, sergeant, lieutenant, captain, and battalion chief
This book also includes an audio CD featuring the author detailing proper and improper interview techniques.
BF0121
Contents: Priorities before the interview; Anatomy of an interview; Opening impressions; Preparing a response to the opening question; General questions; Closing the interview; Preparing for a fire department entrance interview.
Specifications
Fire Engineering, 2003
8 1/2" x 11" softcover
206 pages
ISBN: 1-59370-002-4