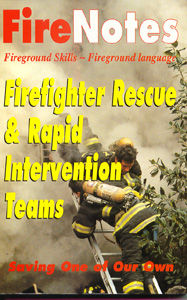 Firefighter Rescue and Rapid Intervention Teams
Jim McCormack
The Fire Department Training Network is a not-for-profit training organization dedicated to training firefighters. It produces results-oriented, reality-based, FireNotes for firefighters and fire departments across the country.
This FireNote deals with Fire Fighter Rescue & Rapid Intervention Training (RIT).
Firefighter Rescue & Rapid Intervention Teams is the most comprehensive book available dealing with firefighter rescue and rapid intervention team operations.
Part I deals with the skills involved in rescuing a firefighter. Part II details the importance of the rapid intervention teams set-up, positions, tools, proactive tasks, deployment and commanding RIT operations.
BF5591
- Part I Chapters * Firefighter Rescue: The Ultimate Fireground Challenge * Searching for a firefighter * Assessing, Stabilizing, and Packaging a Firefighter * Firefighter Rescue and Removal Techniques - Part II Chapters * Why Do We Need Rapid Intervention Teams * The Rapid Intervention Team * Rapid Intervention Team Tools and Staging * Preparing the Fireground: Proactive Fireground Tasks * Responding to a MAYDAY: The RIT Deployment * Commanding Rapid Intervention Operations * Firefighter Rescue & Rapid Intervention Team Training Sessions
Specifications
FDTN, 2003
5 1/2" x 8 1/2" softcover
189 pages, B&W photos
ISBN: 0-9719788-2-4