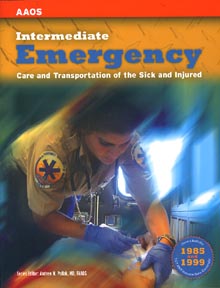 Intermediate Emergency Care of the Sick & Injured
$

48.95
Reg. Price $120.95
You Save $72.00
in stock
AAOS
Intermediate Emergency Care and Transportation of the Sick and Injured is the center of a modern integrated teaching and learning system that will define the future direction of EMS education. It combines current content with dynamic features, interactive technology, and both instructor and student resources.
This text addresses the objectives in both the 1985 and 1999 DOT EMT-Intermediate National Standard Curricula. It bridges the gap between the two curricula while still keeping them separate, making it user friendly for any instructor or student.
Key Features:
Chapter Objectives - 1999 and 1985 National Standard Curriculum objectives and additional noncurriculum objectives are provided for each chapter with corresponding page references.
You are the Provider - Each chapter contains a progressive case study to make students start thinking about what they might do if they encountered a similar case in the field. The case study introduces patients and follows their progress from dispatch to delivery at the emergency department. The case becomes progressively more detailed as new material is presented. This feature is a valuable learning tool that encourages critical thinking skills. Answers and rationales for the case study appear at the end of the chapter.
1999 Curriculum Icon - A bar is used to flag content that applies only to students of the 1999 National Standard Curriculum. Students of the 1985 National Standard Curriculum should skip over the content marked by the 1999 icon, or incorporate it at their instructor's discretion for further study.
EMT-I Tips - Tips provide instant experience from masters of the trade.
EMT-I Safety - Safety tips are included to reinforce safety concerns for both the EMT-I and the patient.
Documentation Tips - Documentation Tips provide guidance on how to document patient care and highlight situations where documentation is especially crucial.
Pediatric and Geriatric Needs - Pediatric and Geriatric Needs highlight specific concerns and procedures for special populations.
In the Field - In the Field boxes discuss practical applications of material for use in the field.
Terminology Tips - Tip discuss how to remember the meanings of medical terms, and figure out meanings of unknown words based on root words, prefixes, and suffixes.
Skill Drills - Skill Drills provide written step-by-step explanations and visual summaries of important skills and procedures. Those skills that apply only to the 1999 National Standard Curriculum are labeled with the 1999 icon.
Prep Kit - The end-of-chapter material, called the Prep Kit, contains: Ready for Review; Vital Vocabulary, Assessment in Action, Points to Ponder
Technology Toolbar: includes: Interactivities, Vital Vocabulary, Anatomy Review, Web Links, Online Review Manual, * Vital Vocabulary - Vocabulary Terms are bolded and underlined within the chapter.
BI8180
TABLE OF CONTENTS: * Section 1: Preparing to be an EMT-I: Introduction to Emergency Medical Care; The Well-Being of the EMT-I; Medical, Legal, and Ethical Issues; Medical Terminology; The Human Body; * Section 2: Pharmacology and Intravenous Therapy: Pharmacology; Intravenous Access; Medication Administration * Section 3: Airway: Airway Management and Ventillation * Section 4: Patient Assessment: Patient Assessment; Communications and Documentation * Section 5: Trauma: Trauma Systems and Mechanism of Injury; Hemorrhage and Shock; Burns and Soft-Tissue Injuries; Thoracic Trauma; Abdomen and Genitalia Injuries; Head and Spine Injuries; Musculoskeletal Care * Section 6: Medical Emergencies: Respiratory Emergencies; Cardiovascular Emergencies; Diabetic Emergencies; Allergic Reactions and Envenomations; Poisonings and Overdose Emergencies; Neurologic Emergencies; Nontraumatic Abdominal Emergencies; Environmental Emergencies; Behavioral Emergencies; Gynecologic Emergencies * Section 7: Special Considerations: Obstetrical Emergencies; Neonatal Emergencies; Pediatric Emergencies; Geriatric Emergencies * Section 8: Operations: Ambulance Operations; Lifting and Moving; Gaining Access; Special Operations; Response to Terrorism and Weapons of Mass Destruction * Section 9 Enrichment: Assessment-Based Management; BLS Review * Index * Additional Credits
Specifications
Jones & Bartlett, 2005
8 1/2" x 11" softcover
1,598 pages
ISBN: 0-7637-2244-8