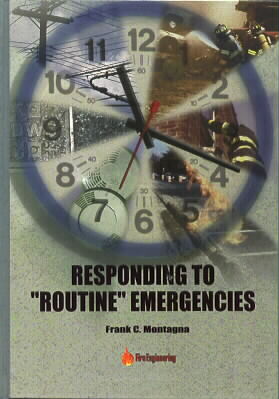 Responding to Routine Emergencies
Frank G. Montagna
What may appear to be a routine emergency or an everyday response can sometimes end in deadly results. That's why it is so important to take the time to analyze and train for the calls that firefighters respond to most often, day after day.
This book is designed to heighten firefighters awareness of routine emergencies, to point out that a hazard exists at every emergency, and to open a discussion on the standard tactics used for them. It is a tool to help every firefighter minimize the dangers to the public and themselves.
BR7250
Contents: Electrical Emergencies; Home Heating Emergencies; Natural Gas Fires and Emergencies; Water Leaks; Vehicle Fires; Kitchen Fires; Mattress Fires; Trash Fires; Carbon Monoxide - The New Response; The Medical Aspects of Carbon Monoxide; The Carbon Monoxide Emergency; Home CO Detectors; UL 2034; Answers to Study Questions; Index.
Specifications
Fire Engineering, 1999
7 1/2" x 10 1/4" hardcover
245 pages, B&W photos and charts
ISBN: 978-0-912212-81-4