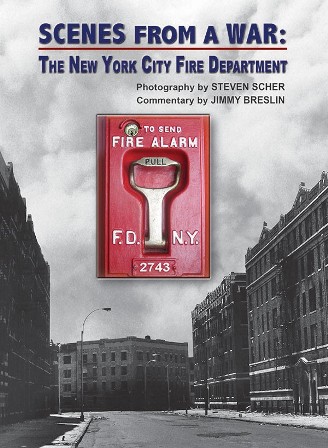 Scenes From A War: The New York City Fire Department
Steven Scher and Jimmy Breslin
A historic new look at the New York City Fire Department through the eyes of photographer Steven Scher!
Scenes From a War gives a visual and written feel to unique events and periods in New York City's history. Using the photographic talent of Steven Scher and the inspired reporting of Pulitzer Prize-winning writer Jimmy Breslin, the reader will get to see what those times were like.
Includes previously published photos with updated captions and never before published photos. Much of the photography speaks for itself. Some images include captions and quotes that enhance their meaning. This book is a must have for any FDNY fan.
BS6300
About the Photographer: Raised in The Bronx, Steven Scher began chasing fire engines at the age of twelve. After graduating from American International College with a degree in sociology, he has held numerous jobs in city government and media. He has been a photographer to a mayor; a television cameraman covering Washington, DC; a fire alarm dispatcher; and a fire department press secretary. He is an Honorary Assistant Chief of the FDNY.
Specifications
MT Publishing, 2017
9" x 12" hardcover
160 pages, B&W and color photos
ISBN: 9781945306631