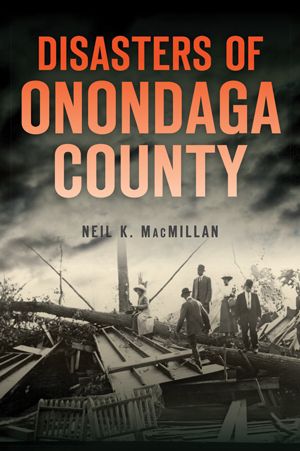 Disasters of Onondaga County
$

16.50
Reg. Price $21.99
You Save $5.49
in stock
Neil K. MacMillan
The city of Syracuse and Onondaga County have a long and storied history of natural and man-made calamity.
Although often considered a moderate weather region, Mother Nature has not spared it from destruction. A tornado devastated picturesque Longbranch Park in 1912, and the rare Hurricane Hazel reached Onondaga's borders in 1954. A fire ravaged Syracuse's famed Bastable Block building in 1923. During a children's concert and festival, the floor of the Central Baptist Church collapsed, tragically claiming scores of lives and injuring more than one hundred.
Author and historian Neil MacMillan charts the history of Onondaga County catastrophes.
BD5125
About the Author: Neil MacMillan was born and lives in the Syracuse area. He is a U.S. Navy veteran of Operation Desert Shield and Desert Storm and a Vietnam-era veteran. Neil holds a BA in interdisciplinary studies with concentrations in history and creative writing. He has worked in a variety of fields. He is the author of Wicked Syracuse: A History of Sin in Salt City and Haunted Onondaga County.
Specifications
History Press, 2017
6" x 9" softcover
128 pages, 42 B&W photos
ISBN: 9781467137867